Using Excel for Presentations 
"A business intelligence dashboard is a data visualization tool that displays the current status of metrics and key performance indicators (KPIs) for an enterprise.     Dashboards consolidate and arrange numbers, metrics and sometimes performance scorecards on a single screen."
A well designed interactive presentation dashboard will not only capture and hold the attention of the audience but provides them with the ability to clearly see and easily understand the content of the presentation.   The data will be linked "re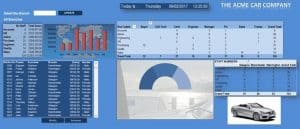 al time" to relevant data sources and the presenter will be able to update the content on the screen at the click of a button in order to make a point or to answer any questions.
Of course, there are many applications available on the market for this purpose, but as always there is a cost involved and of course the presenter has to work within the scope of the software.
Insight Training – MS Excel Dashboard
Our two-day session will teach you how to create slick effective presentations that never go out of date, but which are easily edited when you want a different look.
Learn how to:
Create live links which connect all your data to your dashboard from various sources such as databases, other spreadsheets etc
Eliminate time-consuming manual processes
Cut down on the chance of error
How to set it up in such a way that by clicking on a drop down field to edit criteria, and then clicking on a button, all related sections of the dashboard (i,e. pivot tables, scrolling tables, charts etc) immediately change in order to reflect the section
Present interactive data sets using Excel features and facilities
The cost of the course is £475 (ExVAT) and includes:
Course documentation
Access to the help desk for post course support
Lunch at the adjacent Italian restaurant The Milano
Refreshments and biscuits in the training room
If you need further information or indeed to book a place or email us contact1@uk-insight.org.uk.
Microsoft Excel Dashboard Training Course

Duration 2 days
Objective:
The aim of Microsoft Excel Dashboard Training Course session to provide the existing Excel user with the specific skills required to produce effective and descriptive summary Dashboards.   The topics are geared towards those skills required to be able to produce these models rather than those areas covered in a standard User course.  The session will be run with a ratio of approximately 60 – 75% of the time devoted to learning the skills via a series of hands on exercises and the remaining 25 – 40% time working on an actual work based project incorporating the knowledge learned.
Pre Training Requisite:
To this end, prior to the course the student should look at what he or she wishes to achieve from the session and bring with them some relevant data  to be included in the case study (if data is sensitive, a table should be created and then edited accordingly).   The result of the case study will be loaded onto a CD on conclusion of the session in order that it can be incorporated back in the workplace.
Topics:
Shortcuts and Tips
Overview of Dashboards
Data Preparation Skills
Linking To External Data Sources
Excel Tables / Data Cleansing /Conditional Formatting / Data Validation
Form Controls / Shapes / Named Ranges
Formula
SUM / SUMIF /SUMIFS /COUNT / COUNTIF / COUNTIFS / MIN / MAX / SMALL / LARGE / RANK
AVERAGE / AVERAGEIF / IF / Nested IF's / AND and OR
YEAR / MONTH / VLOOKUP / HLOOKUP / NOW / DATE
Using Advanced Filter
Pivot Tables / Slicers / Sparklines
Creating and using Macros / Macro Buttons
Working with Dashboards
Defining Requirement
Planning the Mock Up
Preparing the Data
Setting Named Ranges etc
Creating the Background
Required Elements
Charts and Chart Types i.e. Speedometer / thermometer / Waterfall
Creating Interactive Drop Downs
Scrolling Tables
Creating the Dashboard using live data
QUESTIONS & ANSWERS
Special Features and Facilities
The course is devoted to a practical use of the software and is therefore primarily hands-on. An absolute maximum of 1 student per machine will be maintained.   The session is fully documented, and each person attending will have unlimited access to our after training back up service